Most people are aware that video cameras on the dashboard of police cars are entirely legal and often help police officers catch speeders and dangerous drivers in the act. What fewer people know is that even private civilian vehicles in California are allowed to have what are commonly referred to as dash cams (dashboard cameras). Here is some information you should have about dash cams, car accidents and driving in California.
Add a header to begin generating the table of contents
1. Dash cams are legal in California
As mentioned previously, dashboard cameras are legal in California. They were legalized in 2011 when rules regarding notifying passengers about the cameras and wherein the car the camera could go were established. Once those rules were put in place, dash cams became legal in the state.
2. There are rules about using dash cams
Just because dash cams are legal doesn't mean you can just use them however you want. All dash cams must be fewer than 5 square inches if they are in the upper center of the windshield and fewer than 7 square inches if they are in the lower right corner. They also must not be placed anywhere an airbag may deploy. 
Finally, because dash cams can record sound in addition to video, passengers must be informed that their conversations will be recorded. Dash cam owners should also be aware of times their vehicle will be driven that they are not in it and either mute the dash cam or let the people using the car know about its recording capabilities.
3. Dash cams record more than video and audio
Everyone knows dash cams record footage of the road ahead of a vehicle and, yes, they record audio from inside the car. Many people don't know that they can also record footage from inside a car and information about the speed the car is driving, its direction, as well as braking and steering.
They can even capture data about seatbelt usage and road conditions. If your car is in an accident and you have a dash cam, that information can be vital, especially if you were not at fault and committed no wrongs (such as speeding) in an accident. 
The downside is that if you or the driver of your car is speeding or otherwise driving dangerously, the dashcam will have that information as well and it could be used against you to prove you contributed to or even caused an accident.  
4. Even if you don't have a dash cam, the other driver might
This can be especially useful if the other driver was at fault, although if you were at fault it can work against you. Generally speaking, there is no expectation of privacy in public spaces such as roads, so another person recording your driving may be perfectly legal and could be used as evidence against you.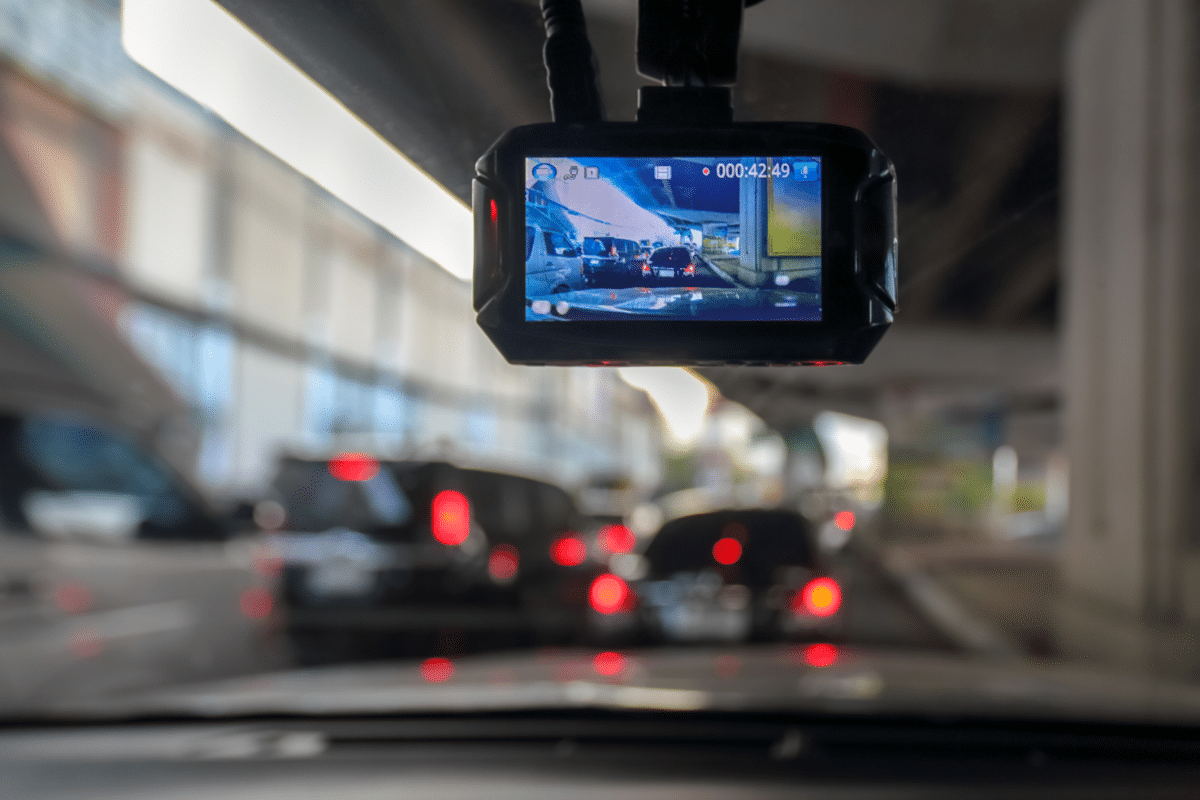 5. Dash cam footage is admissible as evidence in California courts
Not all insurance companies are embracing dash cam footage, and they don't all mention dash cams in their policies. That said, the courts will accept dash cam footage as evidence in claims. Such footage can be useful in cases where fault is not clear—such as running a red light—or in cases where officials have difficulty determining what factors led to a California car accident.
For dash cam footage to be admissible it cannot be tampered with or otherwise edited. 
6. Dash cams might just protect you from fraud
Hit and run accidents and insurance fraud are two serious scenarios that dashcams can help you with. Hit and run accidents are notoriously difficult to prove because the other person involved in the accident takes off and can deny ever being at the scene. Without a dashcam, it's your word against the other driver's. 
Similarly, cases, where people cause an accident to commit insurance fraud, can be difficult to prove, as can phantom driver accidents where the other car does not hit yours but its actions—swerving in front of you—cause you to crash.
A dash cam can help prove your case in any scenario where it's your word versus the other person's. At the very least, even if you don't get the other person's face on the footage, you will likely get their license plate information, which can go a long way to helping your case.
California Car Accident Attorneys
If you or a loved one has been injured in a California car crash, you need a car accident attorney with a proven track record of success managing car crash claims.
Our highly skilled attorneys will thoroughly investigate your accident and determine liability, helping you maximize your claim and prevent your insurance company from offering you the minimum amount possible. 
At Cutter Law, our attorneys have decades of experience helping car accident victims in Oakland and Sacramento obtain the financial compensation they deserve for the harm caused to them.
Our clients trust us to build the strongest claim possible, maximizing their compensation so they can focus on recovering from their trauma. 
Contact an attorney at Cutter Law today to discuss your car accident claim. You don't pay anything until you receive compensation for your injuries. 
Schedule A Free Case Review
Sacramento Office
401 Watt Avenue Suite 100
Sacramento, CA 95864
Phone: 916-290-9400
Oakland Office
Cutter Law P.C.
1999 Harrison Street Suite 1400
Oakland, CA 94612
Bryan H.
Professional, Responsive, and Passionate
My experience with Cutter Law has been extremely positive. The staff are professional, responsive, and passionate about their clients. Highly recommend this law firm.