Sacramento Slip and Fall Lawyers
A slip and fall injury can result in expensive medical bills and severe injuries. Unfortunately, slip and fall injuries are often avoidable and happen as a direct result of negligence. Businesses that fail to provide sufficient warning signs about slippery surfaces or fail to maintain their grounds can find themselves at fault when accidents occur.
Add a header to begin generating the table of contents
At Cutter Law P.C, our Sacramento personal injury lawyers can help if you have been hurt in a slip and fall accident. Our legal team can work with you to build a claim to hold negligent parties liable for your injuries and other losses from the accident.
How common are slip and fall accidents?
According to data compiled by the National Floor Safety Institute (NFSI), falls are the leading cause of emergency room visits. Over 8 million people visit the E.R. annually due to a fall. Additionally, 12% of all falls are related to slip and fall accidents, representing around 1 million slip and falls per year. Other concerning slip and fall statistics include:
5% of all people who fall incur a fracture

Floors and flooring materials contribute to over 2 million fall injuries annually

Falls are the leading cause of injury-related death for those over 85, and the second leading cause for those between 65-85

22% of slip and fall accidents kept the victim out of work for over a month
What is the statute of limitations to file a slip and fall claim in California?
After a slip and fall accident, you have a limited amount of time to file a lawsuit in court. The statute of limitations is the law that sets the specific deadlines for filing. Depending on the facts of your accident, three specific California laws may apply to your case, including: 
Cal. Civ. Code § 338

– In the case of

property damage

, such as replacing a phone damaged during the fall, this section of the code sets the deadline at

three years

.

Cal. Civ. Code § 335.1

– If you suffer

bodily injury

due to the fall and would like to seek compensation, this section sets the limit of

two years

from the date of the injury.

CGC § 911.2

– If your slip and fall case is against a government entity, you will only have six months to file your lawsuit under this law.
Exceptions to the statute of limitations exist, but these are not guaranteed. It is essential to work quickly in either situation to ensure you retain the ability to file a case for compensation in court if you cannot reach a settlement during negotiation. Our slip and fall lawyers in Sacramento can explain the statute of limitations and how it applies to your case.
Who is responsible for my slip and fall accident in Sacramento?
Property owners and occupants must provide ordinary care in maintaining a safe property. This means they are required to take measures to prevent dangerous conditions that may lead to injury. 
If a property becomes unsafe due to the failure of the owner or occupant to take proper precautions, that person can be held liable for subsequent slip and fall accidents, according to Cal. Civ. Code § 1714 (a). Cutter Law, P.C. can help you determine all parties that may be liable for your slip and fall accident in Sacramento.
What do I have to prove to win my slip and fall case?
Not every slip and fall is the result of negligence. When you seek compensation from a property owner or occupant for a slip and fall that occurred on that premises, you must prove that the fall was their fault. 
According to the  California Civil Jury Instructions (CACI) 1000, to prove a slip and fall was the result of negligent behavior, you must show:
The defendant owned, leased, occupied, or controlled the property

The defendant was negligent in the use or maintenance of the property 

You suffered some kind of harm from the slip and fall accident

The defendant's negligence was a substantial factor in the harm you suffered due to the accident
How do I prove the property owner was negligent in a slip and fall?
Demonstrating negligence is crucial in proving that the defendant is responsible for your injuries and other losses due to the slip and fall. According to CACI 1003, to prove negligence, you will need to show evidence that:
The slip and fall resulted from a condition on the property that created an unreasonable risk of harm. 

The defendant knew about this risk or reasonably should have known about the risk.

Despite knowing of the risk, the defendant did not act to repair the condition or give adequate warning to those who might be injured by it.
How much is my Sacramento slip and fall claim worth?
It is challenging to give an exact estimate of how much your case is worth because all slip and fall accidents and resulting injuries are unique. If you have been in a slip and fall accident in Sacramento, our injury lawyers can work with you to determine the value of your claim. 
However, a wide range of damages may be available in your case, as outlined in Cal. Civ. Code § 1431.2(b). The specific categories outlined in this code are economic and non-economic damages.
Economic 
These are any objectively verifiable monetary losses. Typical economic losses include, but are not limited to:
Reimbursement of medical bills 

Lost wages or loss of employment

Future medical and wage losses

Property damage costs

Assistive services 
Non-economic
In liability cases such as a slip and fall accident, you may also include non-economic damages as part of your claim. These are subjective, non-monetary losses. Some examples include:
Pain and suffering caused by the fall

Inconveniences imposed by the accident

Mental anguish and emotional distress

Loss of enjoyment or use
Where do most slip and fall accidents happen in Sacramento?
Slip and fall injuries can happen anywhere, including commercial, residential, and government properties. The most common locations for slip and fall accidents in Sacramento are:
Hotels

, especially in larger resorts such as:

The Hyatt Regency Sacramento

Sheraton Grand Hotel Sacramento

DoubleTree by Hilton Sacramento

Arenas and stadiums

such as: 

Golden 1 Center

Hughes Stadium 

Heart Health Park 

Swimming pools and water parks

such as: 

Raging Waters Sacramento 

Swanston Water Park 

Fruitridge Aquatic Center 

Malls

such as: 

DOCO – Downtown Commons

Arden Fair 

Gateway Plaza 

Public parks

such as:

McClatchy Park

Tiscornia Park 

Sutter's Landing Regional Park 

Grocery stores

such as: 

Safeway 

Market 5-ONE-5

Sprouts Farmers Market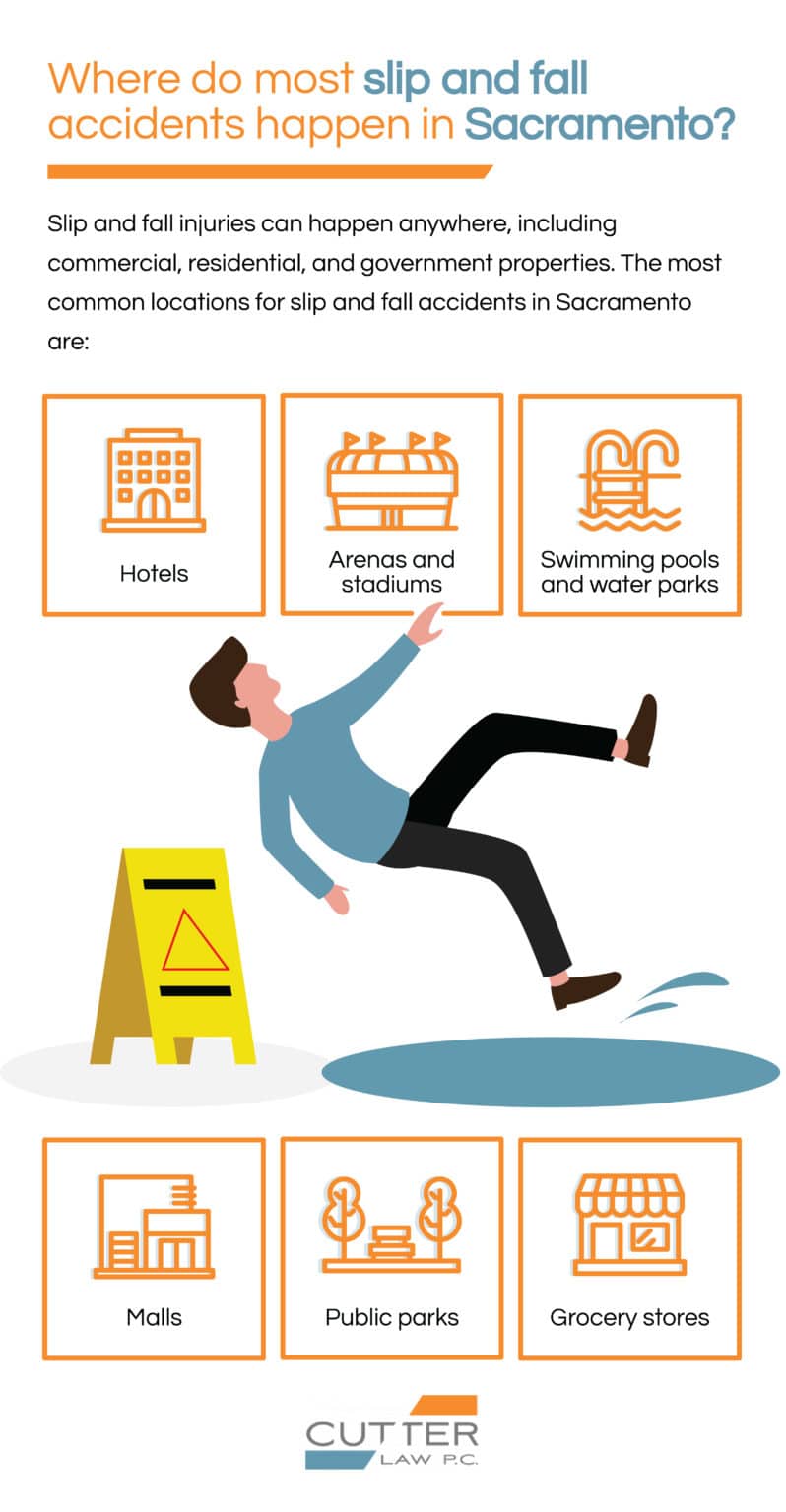 How Our Sacramento Slip and Fall Lawyers Can Help With Your Claim
We can begin by investigating your claim to help you determine fault. Additionally, we can advise on the possible legal options available to help you recover compensation. Next, we can help preserve any existing evidence and gather all evidence we will need to prove the elements required to show negligence. We also handle all correspondence with the insurance companies involved and represent your interest as we negotiate on your behalf. 
Our slip and fall attorneys in Sacramento can represent your interests at every stage of your claim, including taking your case to court if necessary.
How Our Sacramento Slip and Fall Lawyers Can Help With Your Claim
We have worked for injured victims throughout Sacramento and Northern California, helping our clients recover millions of dollars for their injuries. If you've endured an injury due to someone else's negligence, we'll work hard to do the same for you. 
For a free consultation, contact us today. The attorneys in our Sacramento office can evaluate your case and help you get the compensation you deserve.